Year 5 2023 - 2024
Mr Grant
Miss Spence
Meet the Team
5G - Mr Grant, Miss Bdour and Mrs Martin
5S - Miss Spence and Miss Jafar
French and Music will be taught by Mme Lié and Miss Osborne
If you have any questions, please speak to one of our Year 5 staff or email year5@almapark.manchester.sch.uk

Welcome
Welcome to Year 5! In Year 5, we look forward to taking on new challenges and celebrating our successes together, developing as independent, hardworking and passionate learners, ready to take on Year 6.
Here, you can find an overview of the Year 5 Curriculum. You can use this information to discuss with your child what they have learned and continue to support their learning at home.

This half term:
Maths:
Place Value - recognise, order, round and compare numbers up to 1,000,000

Addition and subtraction - use a written method to solve problems involving additiona dn subtraction up to 5 digits

English:
Talk for Writing unit: Mystery story
Use subordinate clauses to add detail

Use descriptive language to descripbe characters and settings

Use a variety of sentence openers

History: The Ancient Mayans
We will focusing on the ancient Mayans. We will be looking at this period of histoy, how the people lived and their achievements.
Knowledge Organiser

Science: Earth, Sun and Moon
We will be investigating the the movements of Earth and the moon in relation to the sun. We will find out how the rotation and orbit of Earth affects us each year.
Knowledge Organiser
Design Technology: Cooking and Nutrition. Celebrating culture and seasonality
We will be exploring the food eaten by the ancient Maya and celebrating Dias De Los Muerto (Day of the Dead). We will learn how to prepare food safely to create our own healthy Mayan dip.
Knowledge Organiser

Computing: Digital Literacy - We are Bloggers.
We will be looking at how to safely create a blog with attachments such as images and video links.

Religious Education:
What does it mean to be a Muslim in Britain today?

PHSE: Safe relationships.
We are going to focusing on respecting ourselves and others.

French:
We are improving our French language skills. We will be learning about adjectives that precede the noun and adverbs of place.

P.E:
Remember to come into school wearing your PE kit on the following days.
Dance and Gymnastics - Wednesday

We are performing a sequence in a small group to showcase the skills we have learnt this year.
Kit: Black shorts or tight-fitting black leggings and a plain white t-shirt.
We are learning all about orienteering. Outdoor games are delivered by an external coach.
Kit: Trainers, black shorts or tight-fitting black leggings, and a plain white t-shirt (a tracksuit top and joggers may be worn if cold)

Forest Schools:
We will be making free standing shelters fit for a particular weather condition. Please ensure your child comes on clothes that can get muddy, sensible outdoor shoes, warm clothes if cold and a water-proof coat.

Reading:
In class we are currently reading Kensuke's Kingdom, by Michael Morpurgo.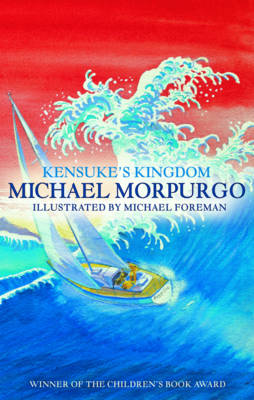 Please read with your child every day and comment in their reading record when you do. Reading books should be in school everyday for independent reading and can be changed any day:

Homework:
This half term's BrainBuilder can be found here
Year 5's spellings will be sent out every Tuesday to learn for a spelling test the following Tuesday.
Reading Eggs - click here
A video on how to use Reading Eggs/ Eggspress is here
Mathletics - click here
TTRockstars – click here


Year 5: Celebrations and Enrichments items
There are no Celebrations and Enrichments items to display